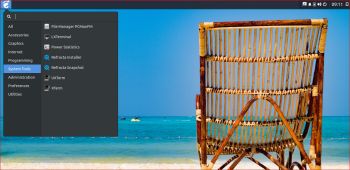 About ExTiX 17.7 with the Budgie Desktop
I've made a new extra version of ExTiX with Budgie Desktop. Budgie is focused on simplicity and elegance. Designed with the modern user in mind. Only a minimum of packages are installed in ExTiX Budgie. You can of course install all packages you want. Even while running ExTiX Budgie live. I.e. from a DVD or USB stick. Study all installed packages in ExTiX Budgie.
ABOUT ExTiX
All four ExTiX systems are based on Ubuntu and Debian.
Refracta Tools
While running ExTiX Budgie 17.7 live or from hard drive you can use Refracta Tools (pre-installed) to create your own live installable Ubuntu system. A ten year child can do it! Watch a slideshow below.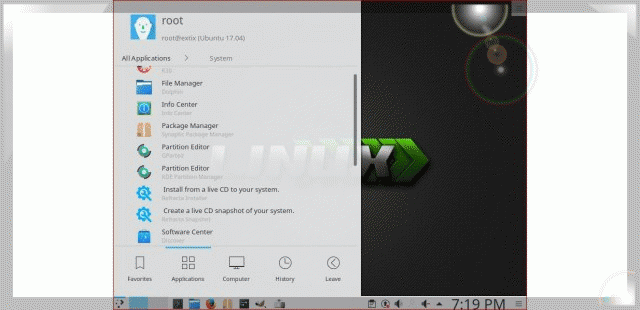 Used KERNEL
My special kernel 4.11.0-10-exton corresponding Kernel.org's kernel 4.11.8.
What's new in Linux kernel 4.11?
Login to Budgie Desktop
Log in from LightDM Login Manager as the ordinary user live with password live or as root ("Other") with password root.
USB installation
Read my instruction.
Install ExTiX to hard drive
Just start the install program Refracta Installer from the Budgie Menu (Install from a live CD to your system). Then just follow the instructions. Choose between Simple installation and Expert installation. NOTE: If you want to install Grub as bootloader while installing ExTiX on a non UEFI-enabled computer you'll have to replace grub-efi-amd64 with grub-pc. Just run the command sudo apt update followed by sudo apt install grub-pc before you start the install program Refracta Installer.

VirtualBox and VMware
ExTiX Budgie 17.7 runs very well live in VirtualBox and VMware.
Spotify
You may want to install Spotify in ExTiX. Just go ahead. It's very easy. Follow this instruction for Ubuntu. When running ExTiX 17.7 live or from hard drive you can just install Spotify with the command sudo apt install spotify-client.
Printing using Cups
It's really very simple to install a printer in ExTiX/Ubuntu. Cups (Common UNIX Printing System) is already installed. Open up Firefox and go to http://localhost:631/admin. See the following five screenshots showing when I added my local printer HP Photosmart Wireless in ExTiX KDE.
1. Cups start page
2. Add the printer
3. Add a local printer
4. Configuration of the added printer
5. Printing a test document
Important about Refracta
You can use the Refracta tools (pre-installed in ExTiX 17.7) to create your own installable Ubuntu 17.04 Live DVD once you have installed ExTiX to hard drive. I mean change everything and then create a whole new Ubuntu live system. Start Refracta from Menu >> System >> Create a live CD snapshot of your system. You don't even have to install ExTiX to hard drive before you can use the Refracta Snapshot. If you have plenty of RAM you can create a new (your own!) Ubuntu system while running ExTiX from DVD or a USB stick. Please note that the whole Refracta process (creating your new ISO) will only take 5 – 10 min! You'll find the ISO in /home/snapshots. The whole thing is very simple. Watch the slideshow above.
SCREENSHOTS
ExTiX Budgie Desktop with Spotify running
ExTiX Budgie Desktop – live
ExTiX Budgie Desktop – root
ExTiX Budgie running in VMware
Compatibility
A general truth: If an original system can run on a particular computer an Exton "remaster" of the same original system can run on the same computer. I never change a Linux system for the worse in terms of auto configuration and hardware detection, etc. It happens that I replace the original kernel, but always to a "better" one with even more native support for various hardware etc. (Which I have done in this case).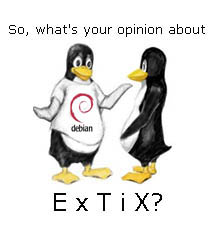 DOWNLOAD
Download ExTiX 17.7 Budgie from SourceForge.net – Fast, secure and free downloads from the largest Open Source applications and software directory.


md5sum for extix-17.7-64bit-budgie-refracta-1450mb-170712.iso



Read about my Android-x86 Systems – Oreo, Nougat, Marshmallow, Lollipop and KitKat at
andex.exton.net – latest is AndEX Oreo 8.1!
and
about my Nougat, Marshmallow and Lollipop versions for Raspberry Pi 3/2 at
raspex.exton.se – latest is RaspAnd Nougat!
---
---